Mac and Cheese-Style Cauliflower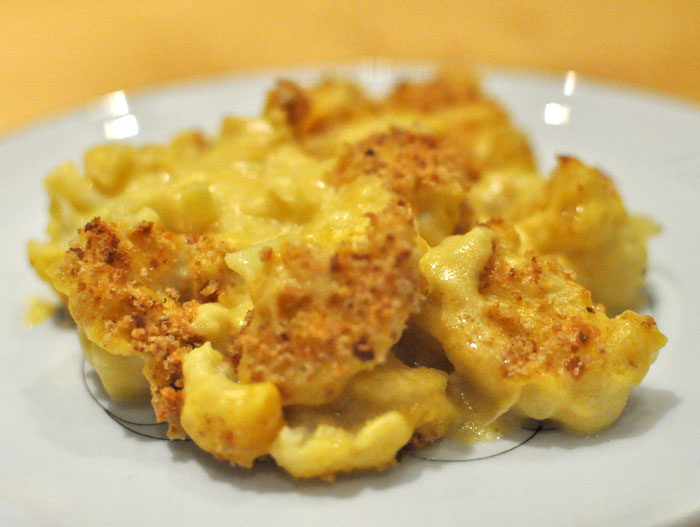 This is from the January/February issue of Vegetarian Times. Another recipe that the kids loved- we all took seconds! And an added bonus, each serving has only 275 calories with 16 grams of protein.
Ingredients:
1 large head cauliflower (1 ½ lb.), cut into medium florets (8 cups)
2 Tbs butter or margarine
3 Tbs all-purpose flour
2 cups low-fat milk
1 clove garlic, minced (1 tsp.)
2 cups grated extra-sharp Cheddar cheese
½ cup nutritional yeast ( you can find this at Whole Foods- this adds a lot of flavor)
1 pinch cayenne pepper
2 egg yolks
1 ½ cups fresh breadcrumbs (make you own by blending fresh bread in the food processor)
Directions:
Preheat oven to 350°F. Bring large pot of salted water to a boil. Add cauliflower florets, and boil 5 to 7 minutes, or until just tender. Drain, reserving 1 cup cooking liquid, and set aside.
Melt butter in same pot over medium heat. Whisk in flour, and cook 1 minute, stirring constantly. Whisk in milk, garlic, and reserved cooking liquid, and cook 7 to 10 minutes, or until sauce is thickened, whisking constantly. Remove from heat, and stir in cheese, nutritional yeast, cayenne pepper, and egg yolks until cheese is melted. Fold in cauliflower.
Coat 13- x 9-inch baking dish with cooking spray. Spread cauliflower mixture in baking dish, and sprinkle with breadcrumbs. Spray breadcrumbs with cooking spray. Bake 30 minutes, or until casserole is hot and bubbly and breadcrumbs are crisp and brown.